Nine Meals To Anarchy: The EMP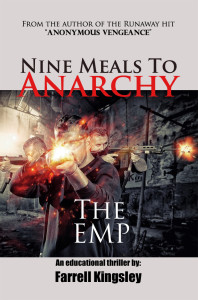 When three events in succession trigger a break down in society Robert Ralston has to survive with his his wife and two children. Knowing the general rule that society totally collapses when there is no food for three days he does his best to save his family but makes many mistakes along the way. 

Although Robert is the perfect definition of a modern day "Prepper", he finds that everything he has learned about preparing his family and all the things he had done to prepare for societies coming collapse wasn't enough. This is a thriller that is both educational and suspenseful with non-stop action! It will leave you wanting more by one of the best authors of today and the author of the thriller "Anonymous Vengeance". If you loved "Anonymous Vengeance, "Lights Out", or "One Second After" you will love Nine Meals To Anarchy!